We currently have several Brandford Exchange plates.

The first is "A Dream Is a Wish Your Heart Makes", the second issue in Cinderella featuring artwork translated by Disney artists. This Edwin M. Knowles China Company piece of fine china includes the original box, certificate and six-panel explanatory publication and will be packed to protect the original box.
Asking: US$49.95 including shipping on continental North America. Pay by cheque, money order, Visa, MasterCard or Discover.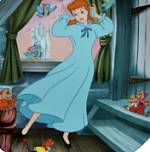 Click on the thumbnail to view a detailed picture including documents & box
These plates for sale - are in perfect condition.
If you have questions or are interested in purchasing any or all of these plates, please E-mail me. After viewing a detail picture you may use the back button of your browser to return to this page.